Note: If you'd still like a shirt, Charles Marshall has re-created the campaign (and did a better job of it, with more sizes and women's cuts!). Donations on the same terms. Get it here: SSL added and removed here t-shirt
So a few weeks ago my officemate Choong and I had a quick idea for a t-shirt. We put them online via Teespring and promised to donate any earnings to the ACLU and EFF.
Most people who ordered a shirt should have one by now. Mine came in the mail earlier this week and they printed up great (still need one? See below).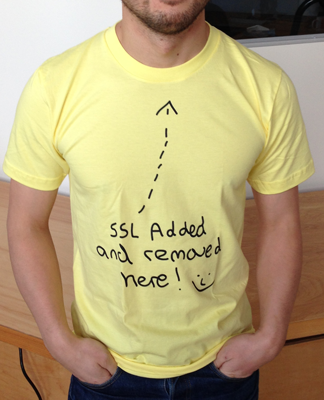 In a stroke of genius, someone on Twitter also took the vector art and made a mug, crossing out "SSL" in red and writing in "coffee."
Anyway, here's how things ended up:
Breakdown
142 shirts were sold
For $20/each
Teespring adjusts its cost per shirt based upon the number that must be ordered before the shirts will be printed. We set 25 shirts as the threshold, which translated to them charging about $10.18/shirt.
That's about $9.82/shirt in profit, or $1,394.09 in total.
You've got to get the money out of Teespring somehow in order to do anything with it. I chose PayPal since it's much faster than being mailed a paper check and then (without telling me ahead of time) PayPal charged $40.73 to make the transfer.
So after fees, proceeds were $1,353.36.
Donation
I split the amount evenly between the ACLU Foundation and the EFF, donating $676.68 to each. That felt great! Thanks to everyone that bought a shirt!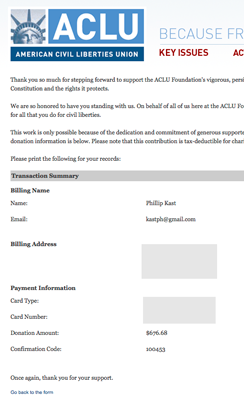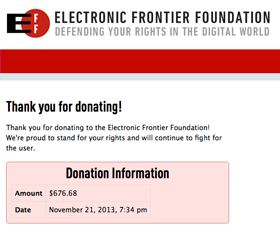 Second round
I received a few emails, and a bunch of people tweeted that they wanted a shirt but missed the sale. So it's back online for a second round, on Teespring again. There are about 6 days left to buy, so if you want one, get it here:
(Update: It's over now. The page was here: round 2 t-shirt page. See the top of this post for ongoing t-shirt sales)
Once this sale ends, I think I'm done with this project. But the vector art I posted before will stay online, so it should be permanently as easy as possible to print up your own.
:)
Update:
The second t-shirt sale concluded in early December. 81 t-shirts sold. Per-shirt proceeds were the same as before. Avoiding PayPal the second time meant there weren't any transfer fees and earnings totalled $788.54. I sent another $394.27 to the EFF and the ACLU foundation. Thanks again, t-shirt buyers! Here's hoping for the vigorous defense of Internet freedom in 2014.